Easy camera tethering with OS X 10.6
Sep 25, 2009 | Photography | By Shawn Parker
Little niceties keep popping up in OS X 10.6, aka Snow Leopard. For example: its super easy now to tether a digital camera and use your Mac as a remote for the camera. Handy if you want to do a little live shooting action for whatever reason.
The secret lies in the Image Capture application that you may or may not have noticed in the Applications folder. Its been there for years, but just recently started gaining some nice little features. This feature has actually been there since 10.5, but 10.6 brings it front and center and easy to use.
Simply launch Image Capture with your camera attached to the computer and you'll get the main Image Capture window with your camera listed on the left. If you camera isn't already selected then select it. Next, from the File menu select "Take Picture". You'll get a window like the image below.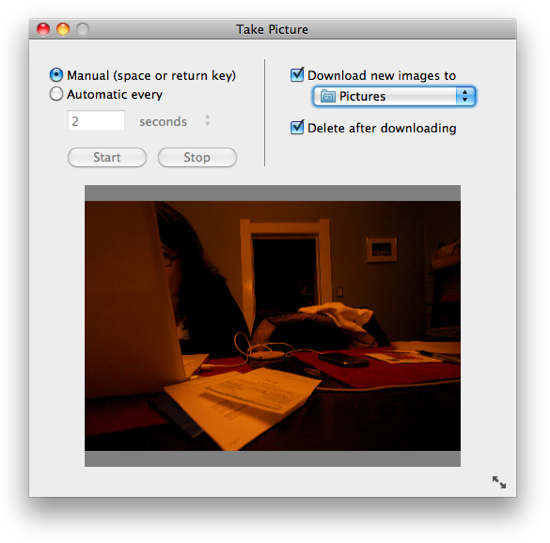 From here its pretty self explanatory. You can set the camera to download to a folder or set it on a timer. I just might have to do a time lapse of our ever exciting work day downtown…
Tagged as: image capture, os x, snow leopard, tether